What is a "Host Family"?
What is a Host Family exactly? This is a very large topic. As a Host Family is so many things! When you decide to have a Foreign Exchange Student come into your home, you have essentially become that student's parents and family not only for the time they are in your home, but you will often find for the rest of your life.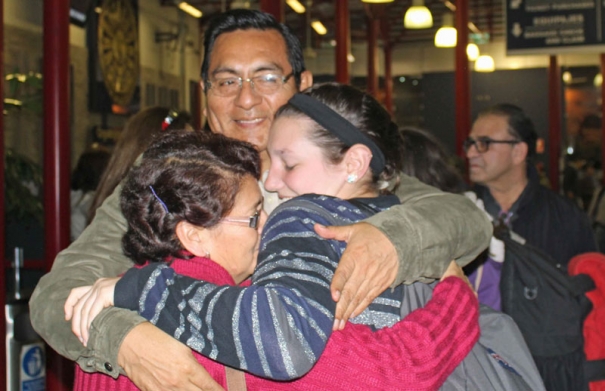 Become a part of your family
When you host a student you become fully responsible for this student. True they will have health insurance and their natural family will provide them with money to buy personal items, you however will be responsible for providing meals for them, and making them a part of your family.
Does your family like to go to the movies? You will want to include your student. This does not mean you ask them to go to the movies and then tell them they have to pay. They are a part of your family. If this is a family outing you should pay for them as well. Foreign Exchange Students come to your country and home to become a part of your family. To learn about how you live.
If you are wanting to have someone from another country come stay with you and to learn about their country but are not wanting the full responsibility of them, I would recommened a "Home Stay" program which is where you provide a room and such for a college student. Those programs you will get paid for. When you are a "Host Family" you are not paid for having a student in your home.
A chance to gain a whole new family in a whole other country
You will have the opportunity to make a huge impression on this student for the time they are in your home. You will have the chance to share your holidays with them and your traditions and they will have the chance to share theirs with you. If you have children already they will build wonderful relationships with their new "sibiling". You will have a chance to gain a whole new family in a whole other country!
Hosting a Exchange Student is a very rewarding experience for all of you. You will have the support of your local representitive as well as the natural family. The road ahead will be full of many exciting adventures and you will build memories to last a life time!
Please feel free to read the many other topics on "Host Families" to find out even more!!!!!
Did you like this post?
Show your support and encourage us to work even harder by recommending it to your friends.
What to read next:

Hosting an Exchange Student can be the most rewarding experience in the world. Bringing an Exchange Student into your home can have its pros and cons.

There are many companies out there hoping to catch your attention when chosing to host an Exchange Student. There are several things to consider when chosing the one to go through.

Every household has their own set of rules. The Exchange Programs also have rules. Discussing all of these with your Student will be very important.
Become a member:

Discuss, ask questions & make friends from all around the world. Become a member and lets create a community where we respect and are extra nice to each other.