I fell in love with my host brother
When I went to the USA in August last year I had, like every other exchange-student-to-be, no thoughts except having a typical "American year". High school, new friends, get to experience the American culture and just have fun for a year. I had no idea that I was going to meet a wonderful guy, no less fall in love.
You know how people say that "love happens when you least expect it?" Well, I guess I can say that I see what they mean.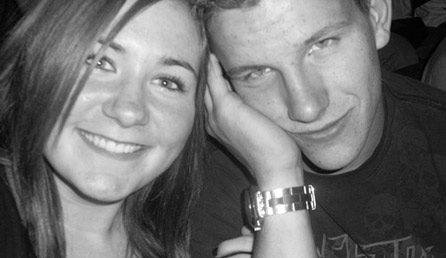 I met him the same day I arrived in Pheonix. August 20 2008. I didn't think anything special, I was just happy that I finally was there and got to meet my hostfamily! He introduced himself as Christopher. Of course, I had already heard about him in my hostmoms e-mails. "How fun with a hostbrother my age" I thought before I left. Little did I know…
After a couple of days of getting to know eachother as "hostsiblings" I started to realize something else. Was he flirting with me? And, did I flirt back? You got it right.
Eight days after my arrival to Phoenix my family had planned a trip to Rocky Point, Mexiko. The excitment was high and a vacation to the beach was well needed for the family. I was just happy to be going to Mexico!
So after another day of what I presumed was flirting from his side we suddenly walked on the beach during the Mexican sunset. I won't deny it, I liked him more than just as my hostbrother. I tried to get rid of the thoughts. He was my hostbrother, we were supposed to be living under the same roof the following 10 months.
During our walk, all of a sudden, we kissed. Yes, romantic and unreal. Even though, the thoughts were still there. He was my hostbrother. What would my hostmom say?
When she saw us coming back from our walk she looked at us and smiled. She said: "Don't pretend like nothing's happend, tell me!" Time to be yelled at, and this was doomed to failure, I thought.
But she was very positive to it all, but also realistic. "Even if this is something that's plain fun for a year, or if it is something serious, I'm glad for you as long as you enjoy eachother's company. But I want you both to know that Emilia has go home next June, and you both will get hurt if this develops."
And so it goes. Sure there where thoughts like "it's going to be tough if we break up and still have to live together" in our heads, but we choosed to take a day at a time and see where it took us. But, it wasn't always easy dating your hostbrother.
As you can guess my organisation didn't allow relationsships between "hostsiblings". (I think this is a very stupid rule by the way. Who decides who to fall in love with?!) This ment that we couldn't be "us" everywhere. Not in school, and not in places where people from school hung out. My representative in the USA told me if we didn't end our relationsship, I was getting replaced or sent home.
But somebody also said "love conquers all". We had to deal with it and stay low. Only our closest friends knew about it (my family in Sweden aswell), and it remained the same throughout the year. Yes, it was sad not to be able to be boyfriend and girlfriend on "homecoming" and "prom". But being together was everything for us.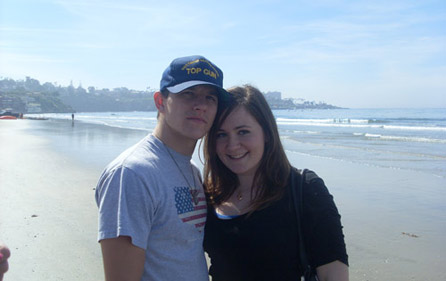 The last day of school, on Christophers "graduation", we ignored all rules and what people said. I was going home soon, and the chance of getting sent home three weeks before my departure seemed absent. In front of everybody he knew on "graduation", he kissed me. We didn't care if anybody saw us. So what? We finally got to be the couple we had been for the last ten months. The reactions from our friends was the greatest. They all were so surprised!
Unfortunatly, the day we both feared arrived. I had to go home. What would happen to us? Ten months together, would they all go to waste? The mood at home was not the best. I was of course sad and worried, and even if we both decided we wouldn't break up when I went home, I had a hard time enjoying the rest of the time.
I sat by the kitchen table a day, when I hear Christopher and my hostmom whispering. "Show her" I heard, and startled. He pulled a paper out of his pocket and placed it on the table in front of me. A airline ticket. To Sweden! He was flying home with me to stay with my family for ten days! "This is also proof that Sweden is not that far away, and if we really want this to work, it will!" he said.
As I said before, was finding a guy on the other side of the Atlantic sea my last expectation. Life is unpredictable! My hostmom always said "you sure got more than you bargained for when you signed up for the exchange year." And, indeed, I did!
We had ten wonderful days together in Sweden, and saying goodbye to him at Arlanda (The international airport of Stockholm) was one of the hardest thing I've ever done. It was hard not to cry, and it was hard to tell yourself that we are going to see eachother soon, but we had to.
Right now, I'm in Sweden, I have my ticket and in 69 days I'll be on the plane back to Pheonix to visit my beloved boyfriend. My own American! Some days is harder then the others. Some days it feels like October won't come. But every day I get to see him on Skype and hear his voice. Every day is one day closer to the departure.
We don't know what will happen in the future, we don't know what will happen with us. At the moment, we're in love, and that's all that matters. On August 29 we will have been dating for a year, and the thought of that he's my boyfriend makes me flip!
Love conquers all, and if you want something much enough there is always a way of making it work! The Atlantic ocean is just a sea. Not more than that. Nothing will keep us from beeing together.
Did you like this story?
Show your support and encourage us to work even harder by recommending it to your friends.
What to read next:

Are you interested of being an exchange student? Read our guide to what can be your first step to an incredible adventure as an exchange student.

Foreign exchange is eternally awesome! The following list includes our top five reasons why going on a foreign exchange is a worthwhile life experience.

It was several years since I was an exchange student but certain things you'll never forget. The American Football in High School was such a thing. This story is how I as an Exchange Student at Wamego High School experienced a Friday Night Game Day in the American Football team.
Get more involved:

Discuss, ask questions & make friends from all around the world. Become a member and lets create a community where we respect and are extra nice to each other.